What is an owner/operator?
Go into business for yourself
Since 1973, Grocery Outlet has partnered with retail leaders to operate their expanding locations. Our Independent Operators have considerable local-decision making autonomy over store operations including hiring, merchandising, marketing and more. You hire, train, and lead your team, doing what you do best, and then we share the profits of your retail store according to our commission structure. We each assume different risks, but share the rewards.
Don't worry, being an Independent Operator doesn't mean you'll be on your own. We support our Independent Operators with training, mentorship, marketing, finance and accounting professionals to assist with any questions or issues that come up.
Independence
Unlike traditional grocery chains, you're never reduced to a compliance manager for a faceless corporation. We empower our Independent Operators to make the best decisions for their store because no one knows their store or community better.
Family
Grocery Outlet began as a family business when it was founded in 1946 and since then, we've added more than 400+ stores to our family. Our Independent Operators are business entities owned by teams of spouses, siblings, and friends raising their families and running their business together.
Giving Back
Operating a Grocery Outlet allows you to support the customers and community that support you. Our Independent Operators provide the local community with jobs, food donations, fundraising and much more. Our annual Independence from Hunger drive alone supports over 400 local agencies.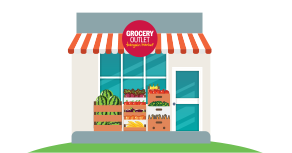 Ready to Apply?
Submit your application to the Independent Operator program and get in touch with our recruiting team. We'll discuss the opportunity in detail and put you in contact with Independent Operators to answer all of your questions.