A Unique Grocery Business
What We Do
Grocery Outlet is one of the largest opportunistic buyers of grocery items in the country, and we sell name-brand items to customers for up to 60% off conventional grocery store retail prices. Since we buy extreme bargains from suppliers, we are able to maintain strong margins for our Independent Operators while still selling at low prices for our customer.
Our Customers Love Us
Our customers love saving money on brands they know as well as discovering new ones. That's why we have seen 16 years of consecutive, same store sales growth.
Our Operators Love Us Too
In 1973, our founder, Jim Read signed the first Operator agreement on a napkin and since then we've helped hundreds of potential operators, just like you, achieve their professional and financial goals. Now that we're a publicly traded company (NASDAQ:GO) our approach continues to focus on the success of our Independent Operators. They are the foundation of our business model.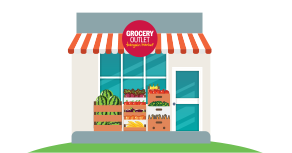 Ready to Apply?
Submit your application to the Independent Operator program and get in touch with our recruiting team. We'll discuss the opportunity in detail and put you in contact with Independent Operators to answer all of your questions.